From Bombay to Mumbai – In Pictures
From A Sleepy Koli fishing hamlet to the financial capital of India, Mumbai has come a long way. The Portugese who were its earlier occupants gave it its name – 'Bom Bai' or 'The Good Bay'. Initially an archipelago of 7 islands, this port city rose to prominence after the British East India Company deemed it fit for trading and shifted base from Surat. After a series of reclamations and massive construction efforts, Bombay became what is it today – A mega metropolis. Join us in capturing this iconic journey, through seamless images of the past the present.
The Archipelago and Its reclamation: The 7 islands of Colaba , Mazagaon, Old Woman's Island, Wadala, Mahim, Parel, and Matunga-Sion, underwent a series of reclamations, forming the island city of Mumbai that we see today. Full story here.
The seven islands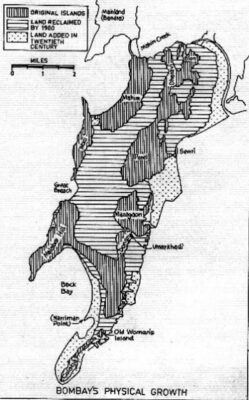 After Reclamation
Gateway of India
The former pier of Apollo Bander, now replaced by the ever popular Gateway of India, a 26m high archway built to commemorate the arrival of King George V and Queen Mary.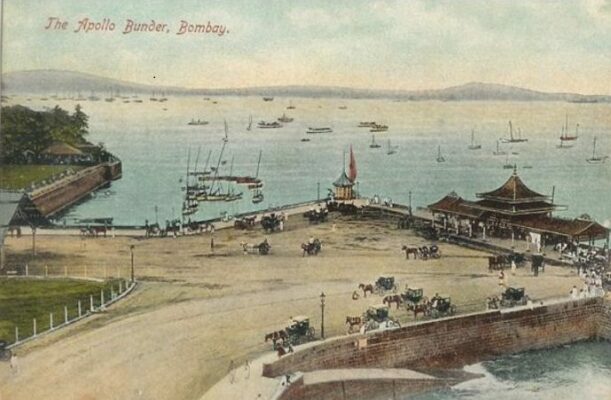 Apollo Bunder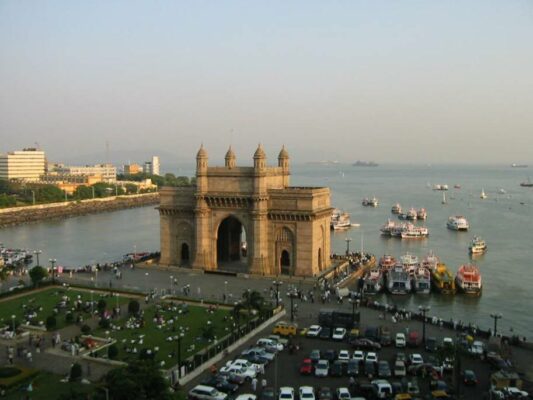 Gateway of India
Bombay was a walled city and Churchgate, now called Veer Nariman Street was one of of three wall gates. It is now home to a new and revamped Churchgate railway station.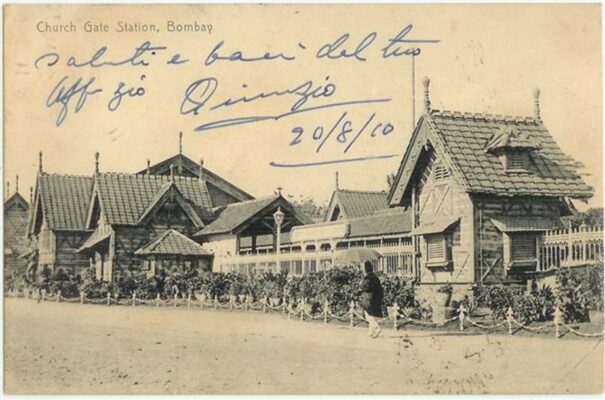 Old Churchgate Station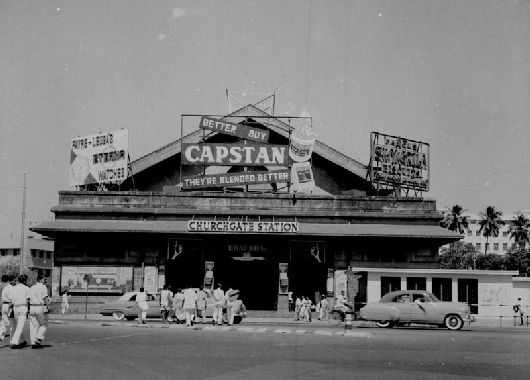 Old Churchgate Station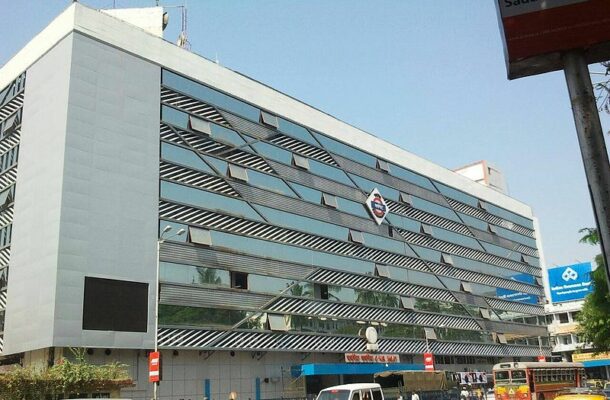 Churchgate Station
Victoria Terminus
Where gothic meets mughal. This lovely railway terminus building Victoria Terminus, now called the Chatrapati Shivaji Terminus, was built in 1887 and is the busiest railway station in India.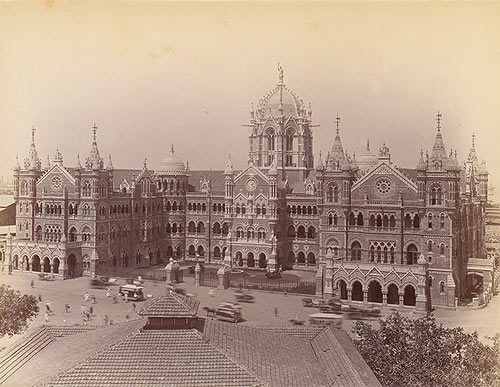 Victoria Terminus

Chatrapati Shivaji Terminus
Asiatic Town Hall
This iconic library founded in 1830 and is known to house some very rare book editions, including one of only two known original copies of Dante's Divine Comedy.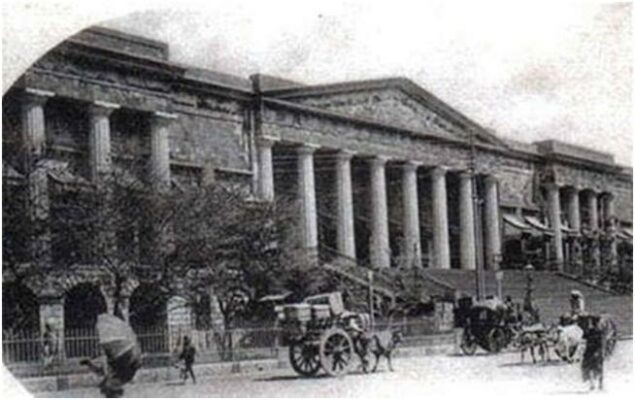 Asiatic Society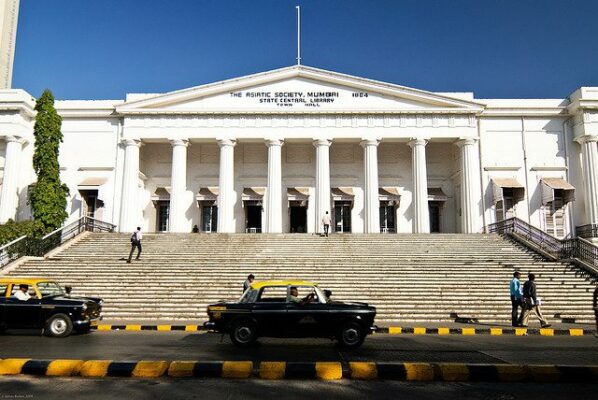 Asiatic Society
Bombay University
Iconic. Mammoth. Ancient. One of the oldest public universities in Maharashtra, the University of Mumbai is a landmark structure and is home to the famous Rajabai Tower.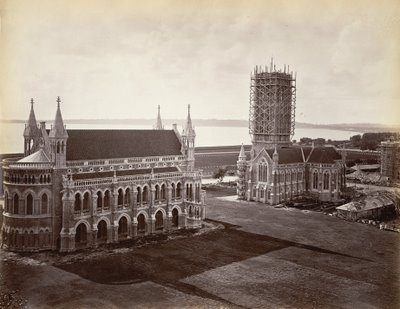 University of Mumbai's Fort Campus in 1870s. Rajabai Clock Tower was completed in 1878.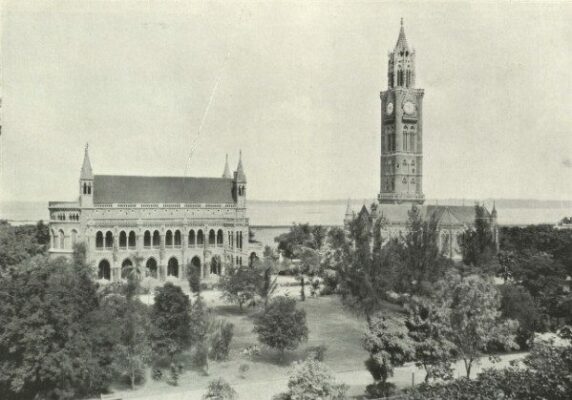 Completed Rajabai Tower and University Hall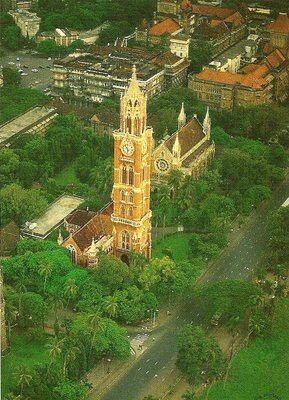 umbai University
Bhendi Bazaar
The market with the curious etymology. This area was north of Crawford Market and the British referred to it as "Behind the Bazaar". The natives picked this up as "Bhendi Bazaar" and the named stayed since.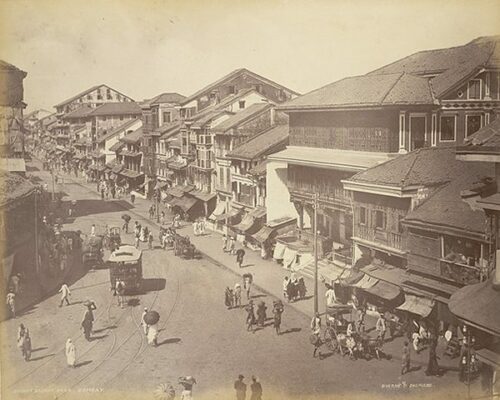 Bhendi Bazaar 1880s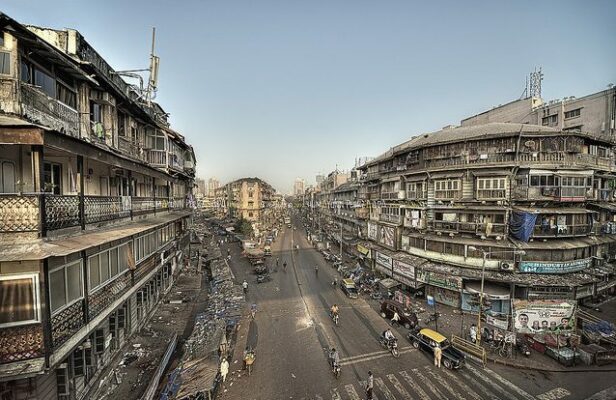 Bhendi Bazaar
Crawford Market
One of South Mumbai's most famous busiest markets where even dogs, cats endangered species are sold. The architecture is predominantly a blend of Norman Flemish styles.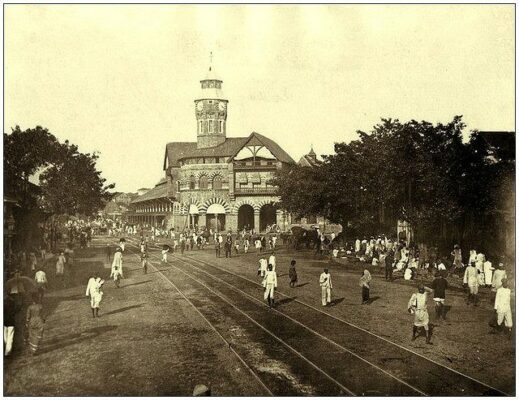 Crawford Market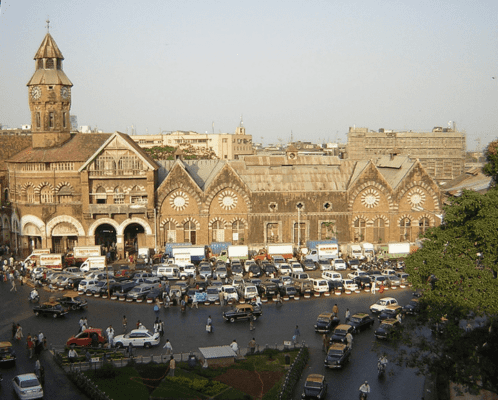 Crawford Market
Bhayander Bridge
Built over the Bayander creek and connecting
Bayander
to Naigon this bridge was so short that very few navigation vessel could pass through.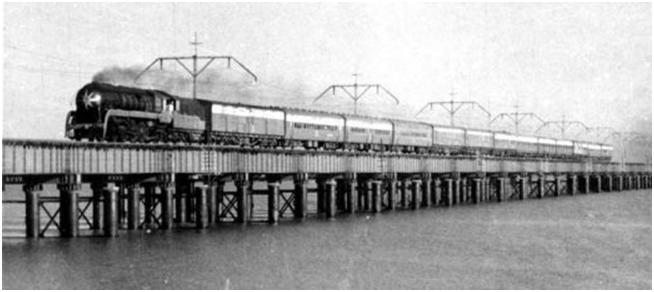 Bhayander Bridge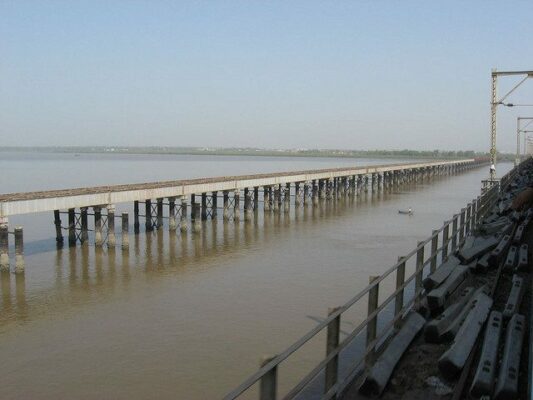 Bhayander Bridge
Colaba Causeway
A land link between
Colaba
Old Woman's Island, this commercial stretch of road was the first to host horse-drawn tram cars.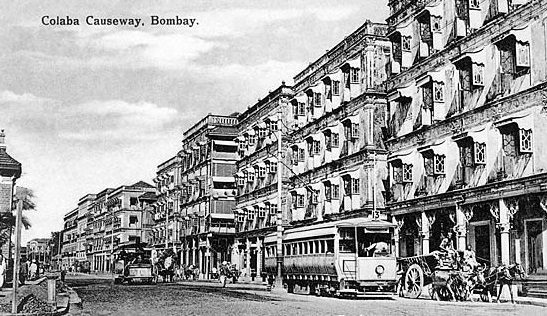 Colaba Causeway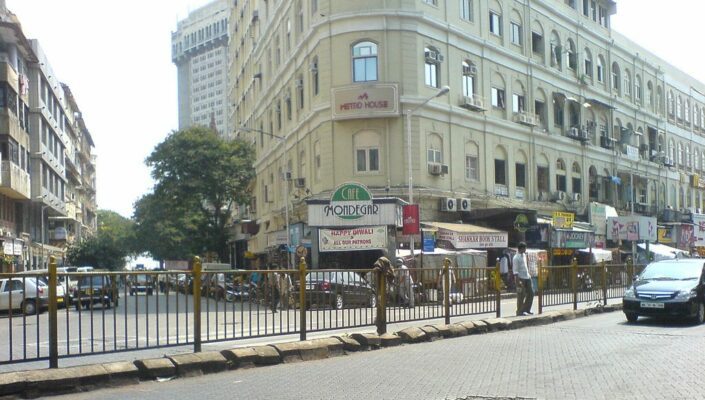 Cafe Mondegar, marking the beginning of Colaba Causeway, with Taj Hotel in the background
Colaba Sea Face
All roads lead to the sea. Leading away from the bustling causeway are tiny perpendicular roads which lead to the serene Colaba seafront.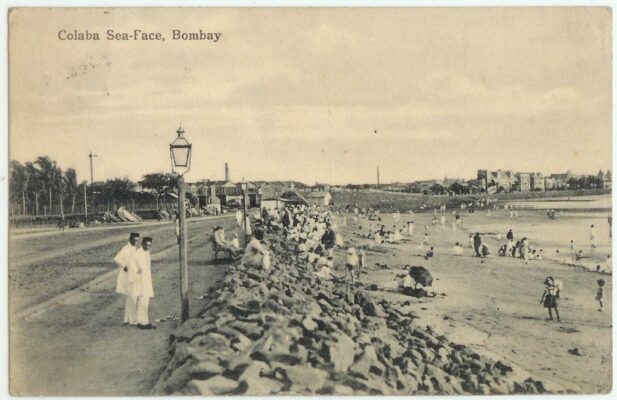 Colaba Sea Face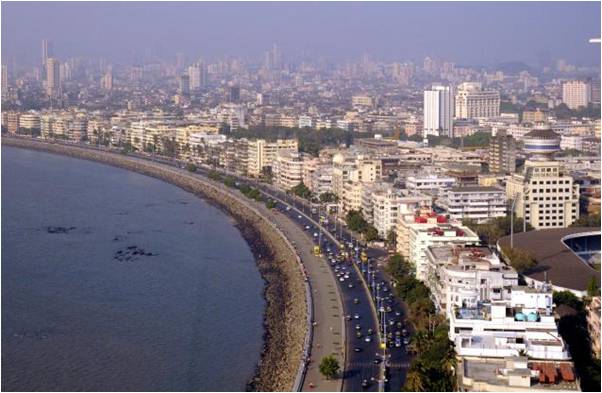 Colaba Sea Face
Dadar Station
The station that has terminals on both sides and has an odd penchant for starring in many Bollywood movies, owing to the mammoth number of local trains that pass through.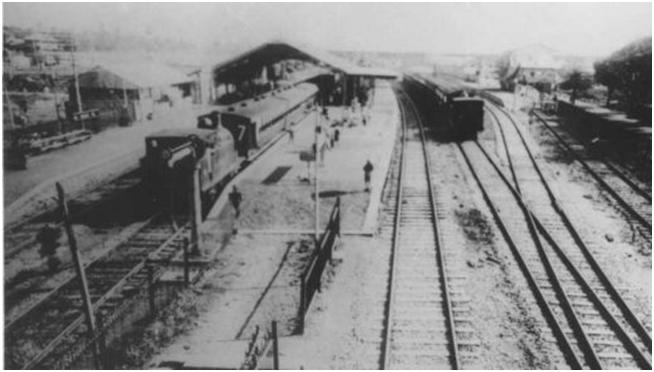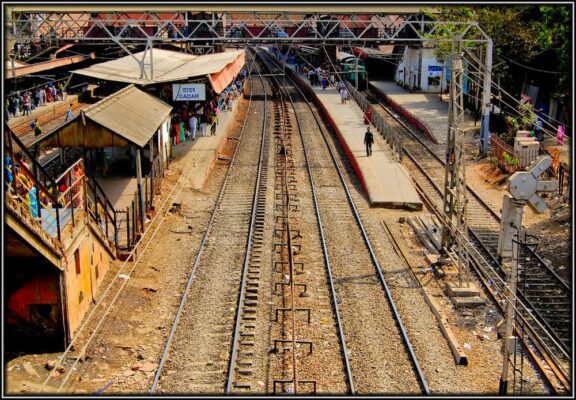 Dadar Station
High Court
Inaugurated in 1862, Gothic Revival early English style architecture were the inspirations behind this magnificent building.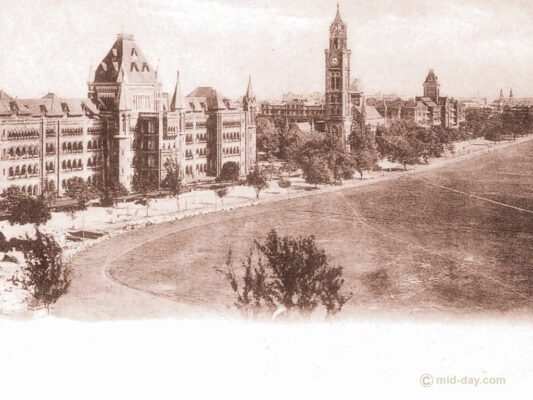 Mumbai High Court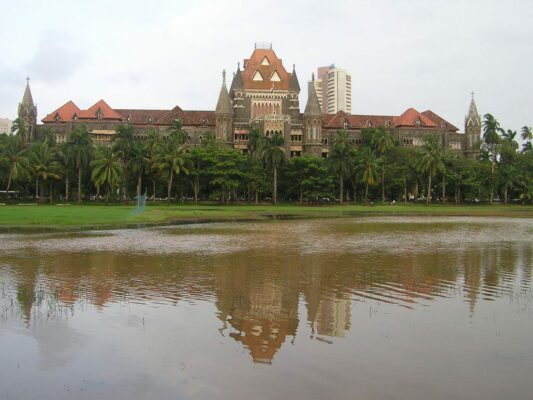 Mumbai High Court
Standing tall in Martyr square, this ornate fountain with the Roman Goddess Flora standing atop its restless waters, was built in 1864 to commemorate Sir Bartle Frère, the then Governor of Bombay.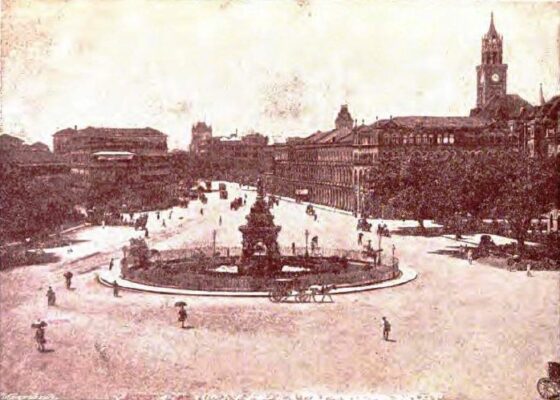 Flora Fountain, 1904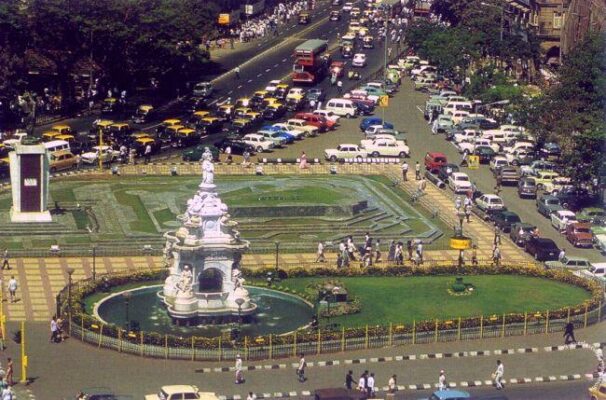 Flora Fountain
Situated at a height of 50 metres, it is the highest point in South Mumbai and boasts of being one of the most upmarket residential areas in Mumbai. It is also home to the Walkeshwar Temple, founded by the Silhara kings.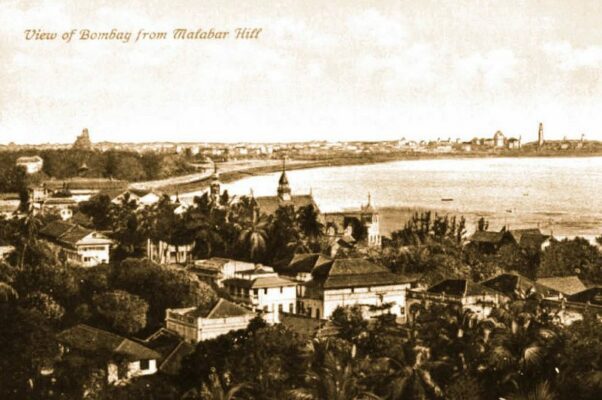 Malabar Hill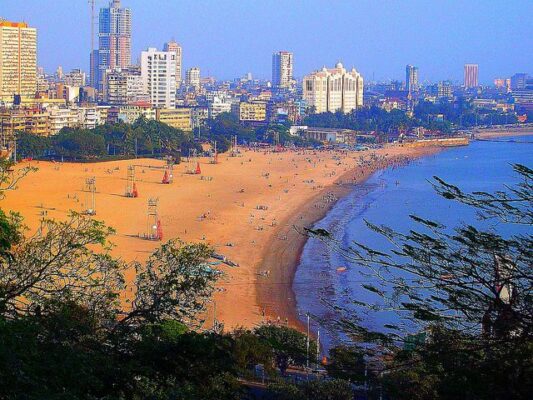 View from Malabar Hill
Marine Drive
This iconic 4.3-kilometre-long boulevard is a C-shaped 6 lane concrete road overlooking the Arabian sea, and is home to some of the best art deco architecture in the city.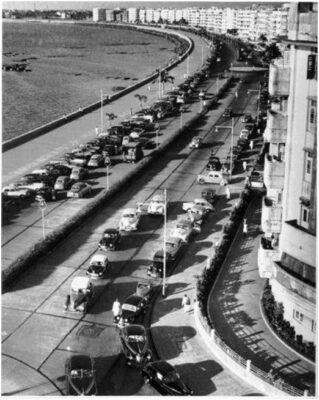 Old Marine Drive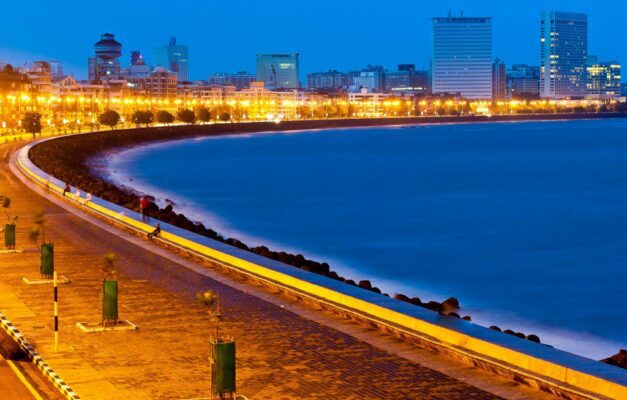 Marine Drive
Lamignton Road
Called the IT hub of Mumbai this sleepy stretch from yesteryear is now transformed into a busy thoroughfare near Grant road station.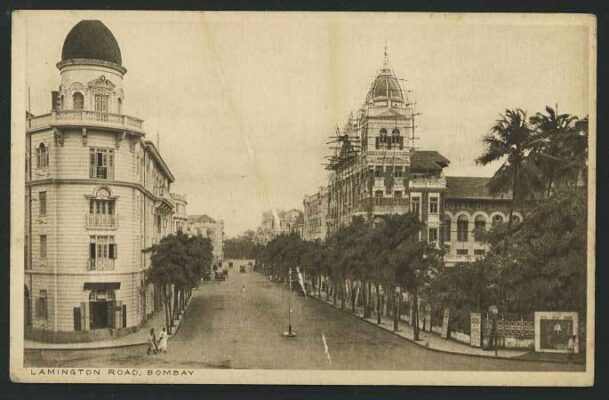 Lamington Road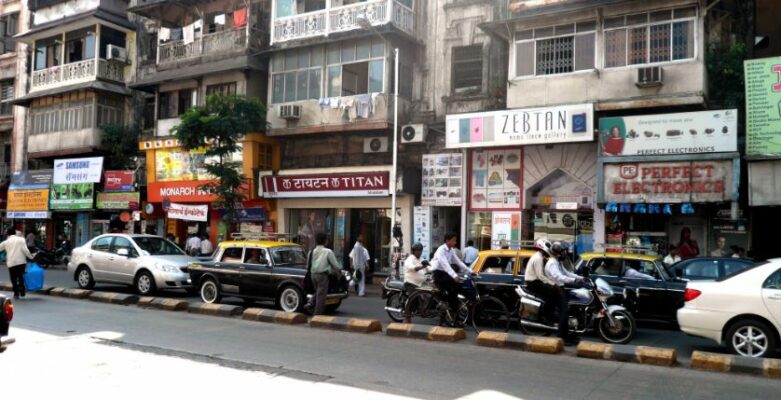 Lamington Road Street View
Oval Maidan
Measuring 22 acres in area, this recreational ground is situated in the heart on South Mumbai and overlooks many famous landmark like the Bombay High Court, University of Mumbai.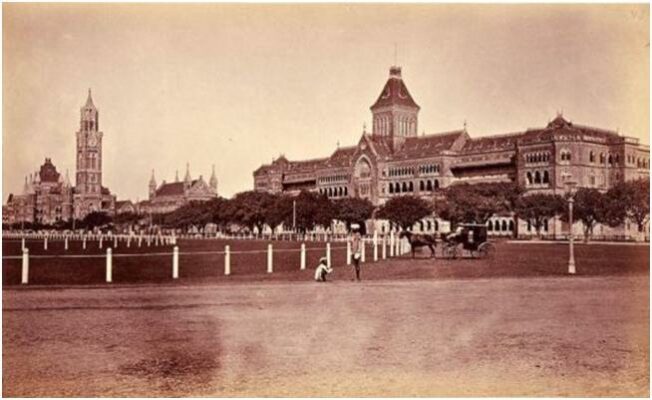 Oval Maidan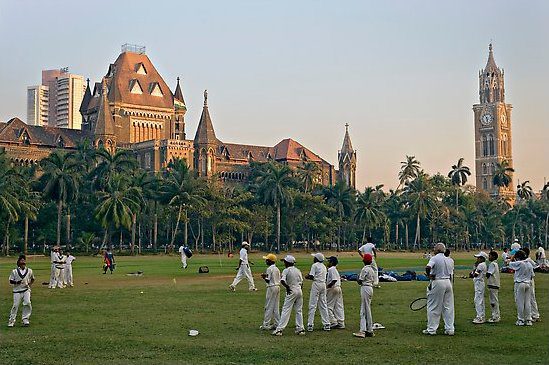 Boys in cricket attire on Oval Maidan, High Court, and Rajabai Tower. Mumbai, Maharashtra, India
Parsik Tunnel
Once the third largest tunnel in Asia, the Parsik Tunnel is the first railway tunnel to be built in India and is 1.3 Km in length.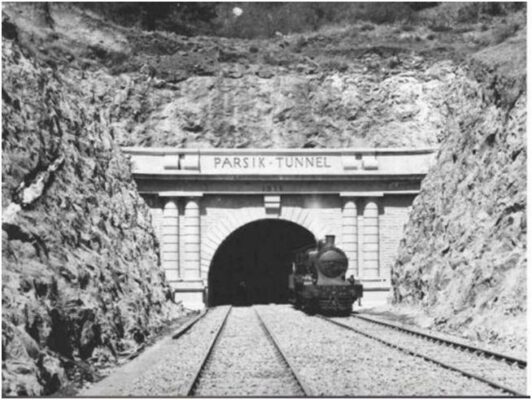 Parsik Tunnel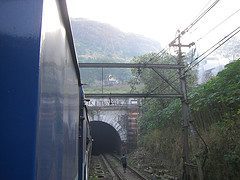 A train entering Parsik Tunnel
Cuffe Parade
Cuffe Parade
was named after T. W. Cuffe of the Bombay City Improvement Trust and was built mostly on reclaimed land. The Cuffe Parade of today is swanky upmarket with some of its buildings reaching up to 30 storeys high.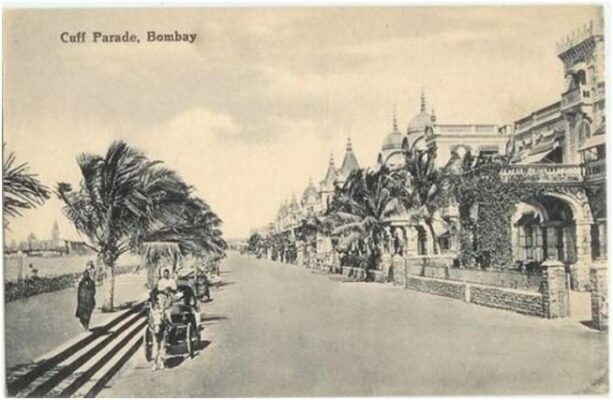 Cuffe Parade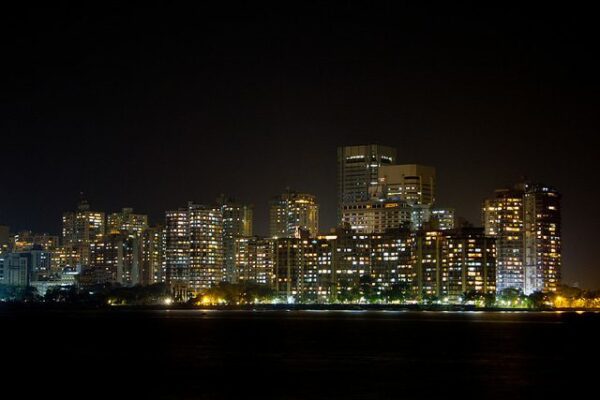 Cuffe Parade
Port of Mumbai
Is built natural deep-water harbor in the southern portion of the Ulhas River estuary and is primarily used for bulk cargo. The harbour spreads over 400 square kilometres.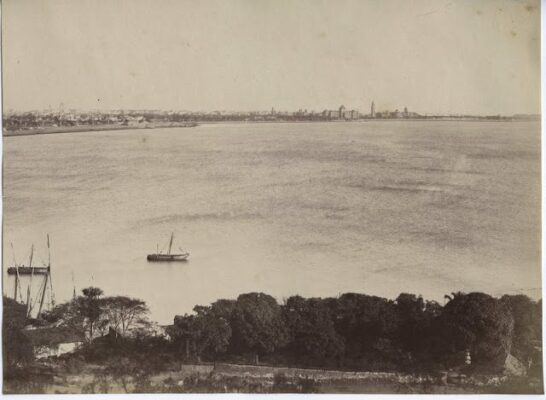 Port of Bombay, 1890′s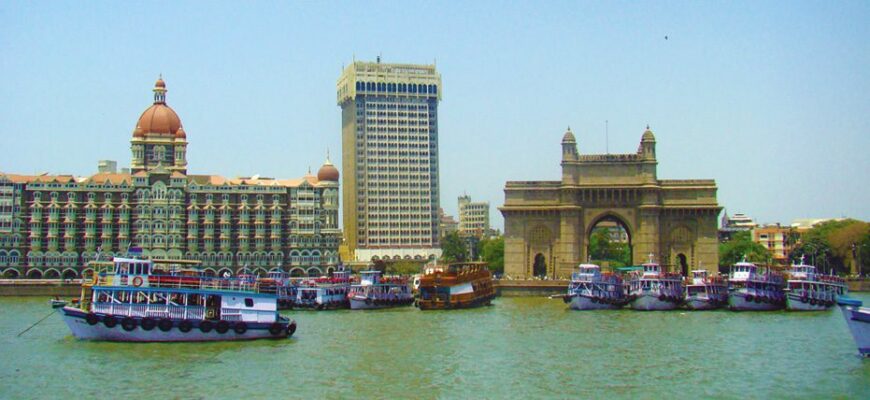 Port of Mumbai
Elphinstone Circle
Found in the Horniman Circle Gardens, and was completed in 1872, this iconic heritage building housed many luxury brands and leading publication, Hermes and The Times of India to name a few.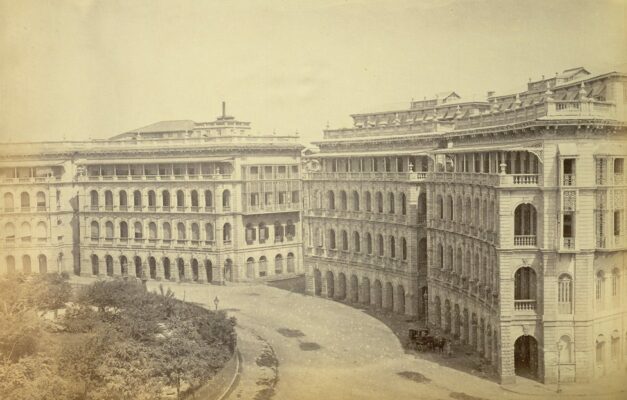 Elphinstone Circle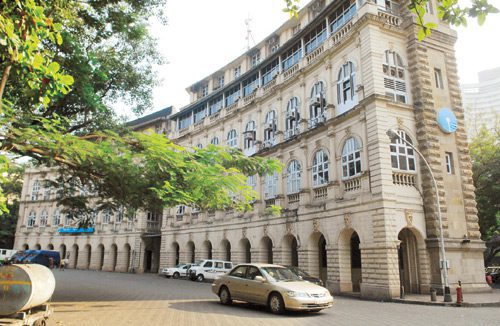 Elphinstone Circle
Yacht Club
The Royal Bombay Yacht Club was founded in 1846 in the
Colaba
Area, when the British took to Sailing as a sport in India. The Yatch club sits pretty, overlooking the Gateway of India the Bombay Harbor.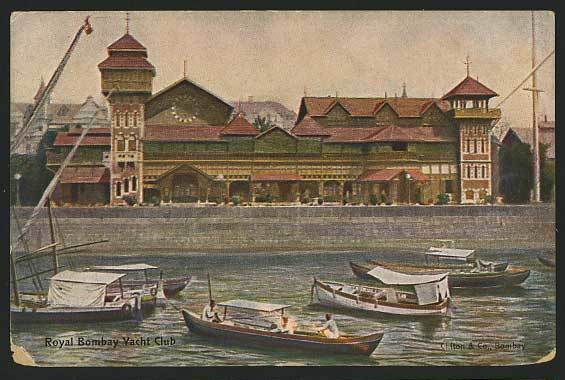 Yacht Club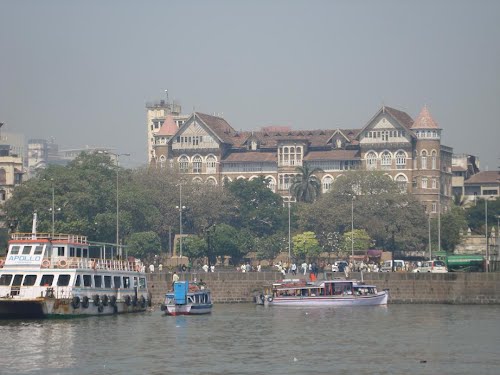 Yacht Club
Wilson College
One of the oldest colleges in India, the Wison built in 1832, is a structure built in Victorian Gothic style and is known for elevated first floor classrooms with teakwood trusses.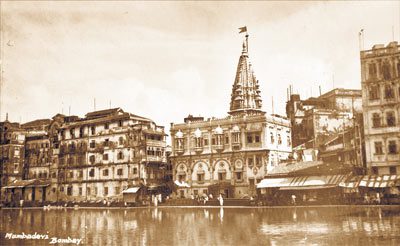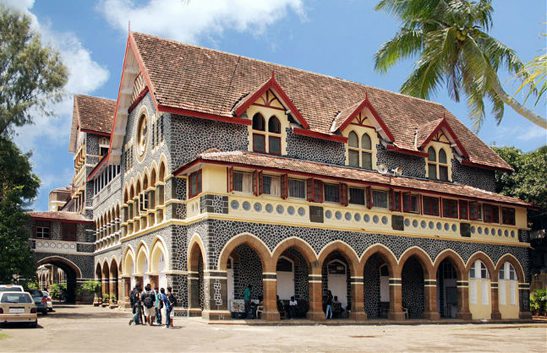 Wilson College
Dedicated to the Goddess Mumba, a local incarnation of the Devi, the Mumba Devi Temple is a six century old structure and is responsible for giving Mumbai its name. Mumbai is a combination of 'Mumbā' and aī, Marathi for "mother".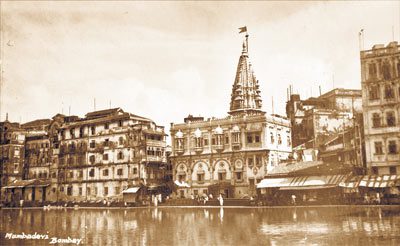 Mumba Devi Temple
Mumba Devi Temple