James Bond is a movie icon, but the super-spy would not have been half as effective without his fleet of luxury vehicles armed with his signature gadgets. ...
James Bond is one of the greatest movie characters of all time, famous for his suave sophistication, daring stunts and unparalleled skills in luring ladies. However, he wouldn't be half the super spy he is without the aid of his various super cars, speedboats and flying machines, all complete with the trademark gadgets and incredible modifications. Here is our list of his very best vehicles from down the years...
1. Aston Martin DB5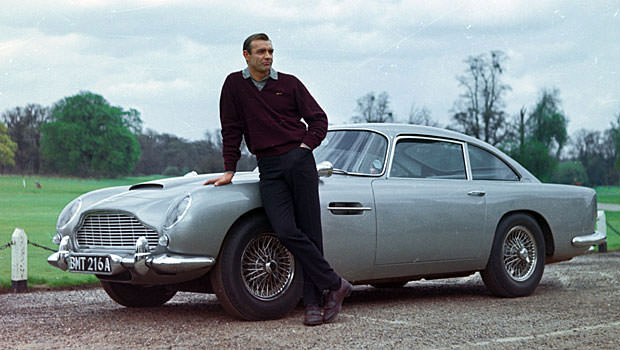 Photo: James Bond Wikia
Often seen as the classic James Bond car, the Aston Martin DB5 was his main motor in two of the earliest and most iconic 007 movies - Goldfinger (1964) and Thunderball (1965). One of the most beautiful Aston Martins ever produced, it was only manufactured between 1963 and 1965, and its 282 horse power engine could propel the car to speeds of 145 mph. Of course Bond's version featured a host of modifications and gadgets, including an option to release an oil slick to force pursuing cars off the road, a smokescreen, bulletproof windows and most famously - an ejector seat!
2. Submarine Lotus Esprit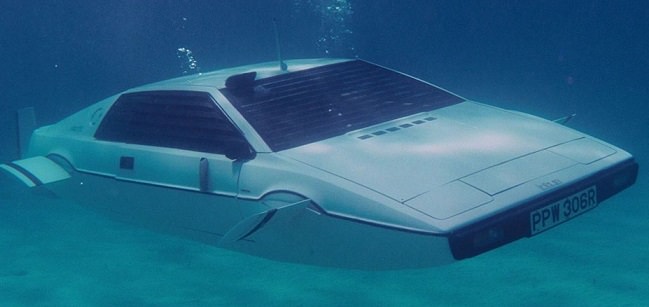 Photo: Yachtworld
Most convertibles feature a retractable roof, but the Lotus Esprit, seen in The Spy Who Loved Me (1977), takes the concept much, much further. It was his only vehicle capable of moving both on land and by sea, with Bond famously avoiding bullets from an angry Strongberg henchwoman by shooting off the edge of the pier into the sea. Once underwater, the wheels folded in, fins emerged, propellers popped out from the back of the car and a periscope extended from the top. The sporty Lotus is pretty handy on land as well, not only does it look good but it features a cement sprayer which helps Bond avoid capture by a group of assassins.
3. Little Nellie the Wallis Flying Machine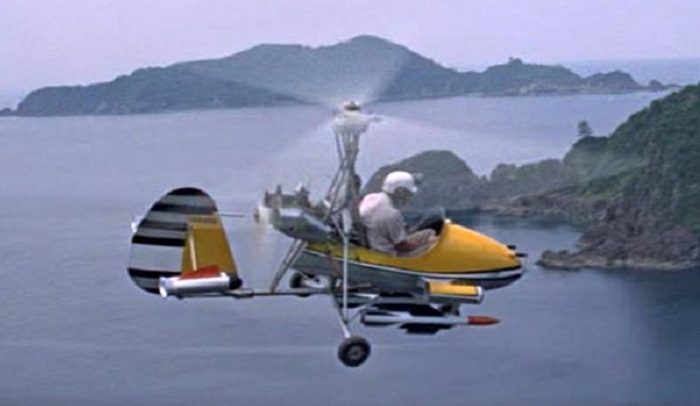 Photo: Popular Mechanics
No list of Bond vehicles would be complete without Little Nellie, the tiny Autogyro flying machine seen in You Only Live Twice (1967). Designed by British Inventor Ken Wallis. It might look cute and cuddly, but Little Nellie packed quite a punch, with built-in flame guns, aerial mines, rocket launchers, air-to-air missiles and mounted machine guns all available to Sean Connery's Bond when he finds himself pursued by five helicopters. There was only one winner in that battle of course! In real life, the plane was not retired after its appearance in the film and Wallis still piloted it for many years, even flying it over Scotland looking for evidence of the famous Loch Ness Monster.
4.

Citroën 2CV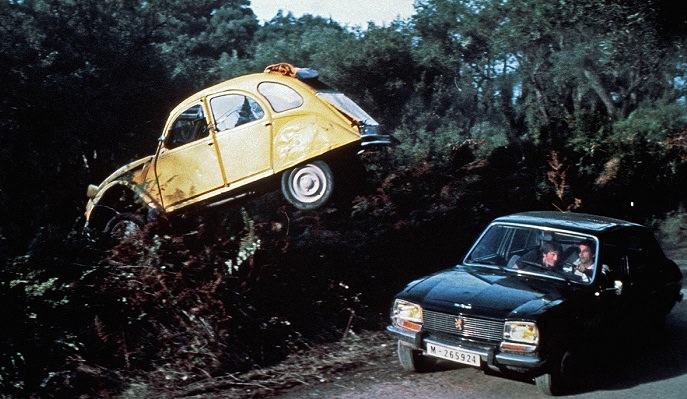 Photo: vintage news
The Citroën 2CV is an icon in its own right. Models were produced consistently between 1948 and 1990 and it was much loved for its unique appearance, including its rolled up, canvas sun roof that inspired its nickname 'the umbrella on wheels' and prominent back wheel arches. Bond drove a yellow version in For Your Eyes Only (1981). It wasn't his own car, so it didn't have any gadgets, meaning he had to use his own driving skills to evade the bad guys after taking over the wheel from love interest Melina Havelock. That's not before it takes a famous jump off the road (as pictured) however!
5. Glastron CT150 Speedboat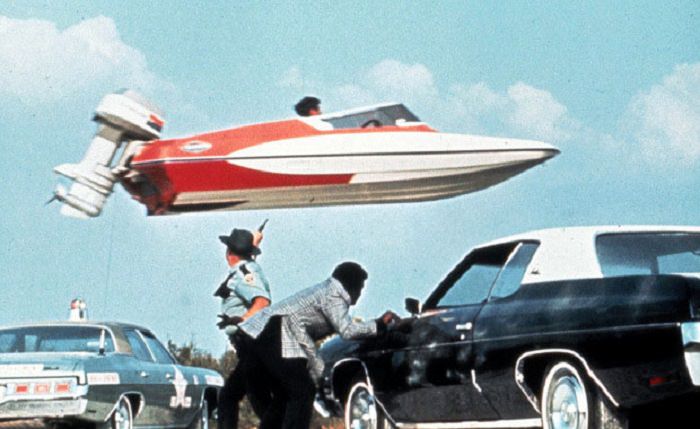 Photo: yachtworld
The first actual boat to appear on the list isn't a vehicle hybrid like the Lotus Submariner, but it does do a passable impression of a flying machine during its most famous scene in Live and Let Die (1973). While driving the boat, Bond spots a strip of 120ft land ahead - a problem for most drivers, but not for 007. He manages to propel the boat across the land and back into the water on the other side to continue his high speed pursuit. The boat itself became a cult classic and it is rumoured that over 25 models were used during filming, with many damaged or destroyed. The real life models cannot perform 120 feet jumps, unsurprisingly.
6. Sunbeam Alpine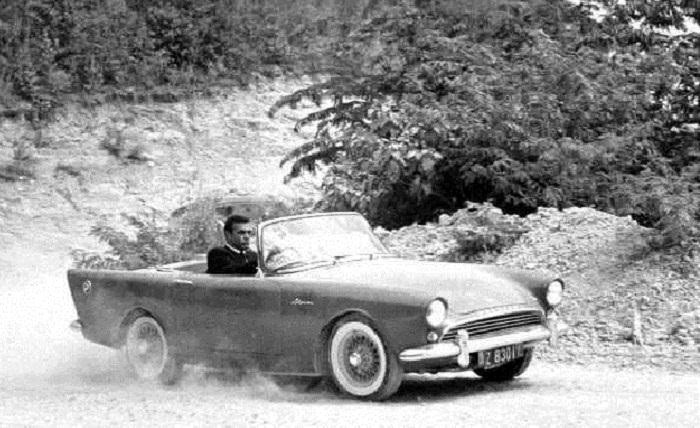 Photo: 007jamesbond.com
The Sunbeam Alpine was a two-seater sportscar manufactured sporadically between 1953 and 1975 and featured a four cylinder 2267cc engine, with a raised compression ratio. It was one of the very first Bond cars, appearing in the first ever 007 movie Dr No (1962), when Sean Connery's Bond rented a blue Sunbeam in Jamaica and used it to evade the 'Three Blind Mice' assassins. Making use of the Sunbeam's speed, he easily out-manouvers his pursuers, sending them to an explosive death.
7. Moon Buggy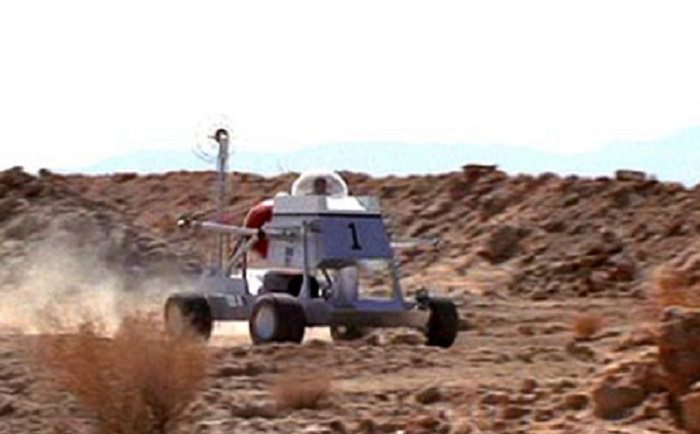 Photo: jamesbondmm.co.uk
A one off Bond special, this futuristic Moon Buggy wasn't actually used in Moonraker, as you might expect; instead providing a convenient means of escape when the super spy is spotted while spying on Blofield's plans to build a diamond laser satellite in Diamonds Are Forever (1971). Bond finds the buggy on the set of a movie that is being filmed in the same complex and quickly works out its controls, making a nimble get away before he can be apprehended in what has since become another iconic scene from the film series.
8. Toyota 2000GT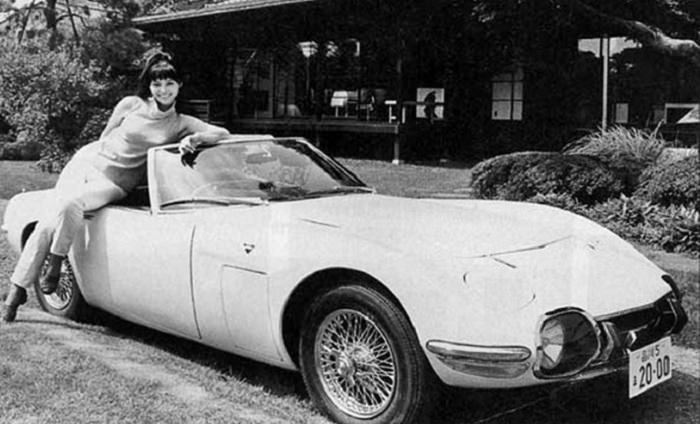 Photo: blogtoyota.eu
The Toyota 2000GT was a limited production, two seater sports car with rear wheel drive, produced between 1967 and 1970. It is credited with redefining the Japanese automobile industry in the wider world, showing that the country's manufacturers could produce sleek, high performance sports cars as well as the practical, everyday cars previously associated with brands like Toyota. Models are highly collectible these days and have been known to fetch $1.2m at auction. It appears in You Only Live Twice (1967), but Bond himself is a passenger not the driver, when rescued by Japanese Bond girl Aki. The 2000GT's speed made it the perfect getaway car.
9. Aston Martin V12 Vanquish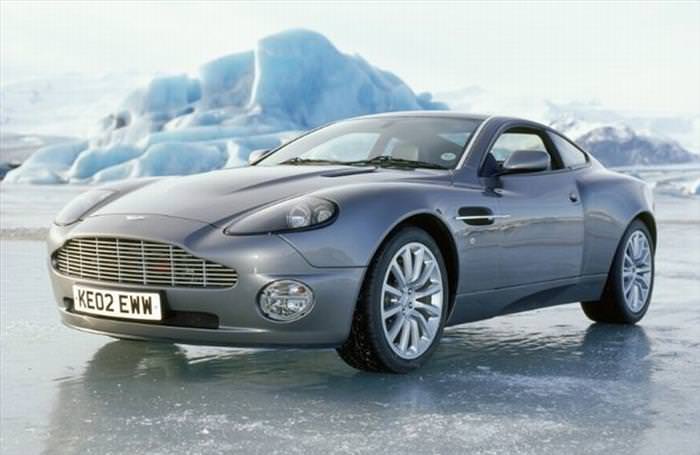 Photo: James Bond wikia
The most modern of the cars on the list is well worth its inclusion. The beautiful Aston Martin V12 Vanquish was first manufactured between 2001 and 2007 before being reintroduced in 2012. It boasts a powerful 5935cc engine and was Bond's main motor in Die Another Day (2002). His version is a hotbed of gadgets and weaponry, rigged with various rockets, guns, an ejector seat and even an invisibility mechanism. It was subsequently voted the third best car in movie history, after Bond's own DB5 and the Minis from The Italian Job.
10. Ford Mustang Mach 1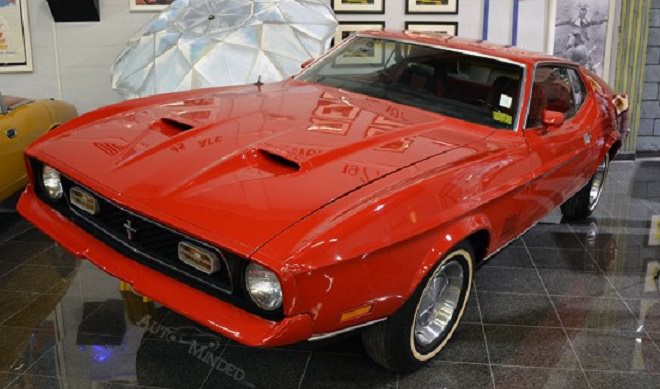 Photo: Mustangs Daily
The Mach 1 was a high performance variant of the Mustang manufactured between 1968 and 1969. It featured a 'sportsroof' body and added numerous performance and visual enhancing elements such as a competition level suspension, deluxe interior, modified wheels and an optional rear spoiler. Bond borrows the car in Diamonds Are Forever (1971) and is pursued through the desert by Police in a classic car chase with a memorable climax. Penned into a narrow street with only a narrow alleyway ahead, Bond leans the car on to two wheels and drives through, leaving the Police trailing behind.
11. Glastron Carlson Handglider Boat

Photo: yachtworld
The hard top model of the Glastron Carlson Speed Boat featured in Moonraker (1979) was one of only 300 ever produced, and one of only three to feature a silver-grey finish. Bond rides it along the Amazon river, where he is pursued by a series of unfriendly speedboats including one driven by metal-mouth villain 'Jaws'. It has been rigged with weapons, of course, and he uses a series of mines, torpedoes and other firearms to fend off the enemy before pressing a button to deploy a handglider, allowing him to fly to safety shortly before he plunges over the edge of a waterfall.
12. BMW 750il
Photo: vignette3
The 7 series is BMW's flagship line and the 750il, manufactured between 1986 and 2001 was one of its most loved products. It was the first European car to offer an built-in Satellite Navigation system and also boasted a 4.4l engine in later models. It is Bond's main car inTomorrow Never Dies (1997) and his version is modified to include a number of nifty security features, including electrified door handles, a sledgehammer proof exterior and a tear gas dispenser. It also has re-inflatable tires and a cutter that emerges from the BMW badge along with the usual sets of guns and explosives, making it one of the best Bond cars yet!
13. Iceberg Submarine
Photo: jamesbondmm
If you are James Bond, sometimes you need a completely unique vehicle not seen anywhere else in the world. We don't think these were ever manufactured in real life (well if they were, they were kept a very close secret), but the submarine disguised as an iceberg appears in A View To A Kill (1985) and is piloted by Bond girl, Kimberley Jones. Blending perfectly into its icy surroundings, it has a luxury interior and is kitted out with the latest computer technology. Bond informs Kimberley he will have five days alone on the boat with her as they set off.
14. Red Lotus Esprit Turbo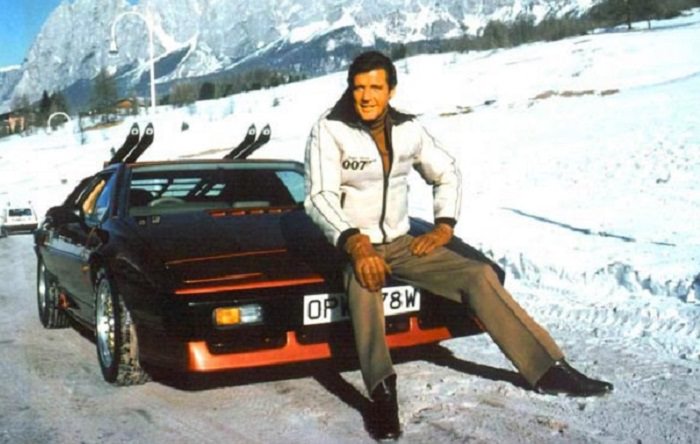 Photo: jamesbondwikia
The Lotus Esprit was so popular in its submarine guise, it made another appearance in For Your Eyes Only (1981), featuring in another iconic scene where Roger Moore's Bond is seen driving it through the Alps with his skis on the roof. This one could only function on land (as far as we know) and given that Bond tells a passenger not to touch any of the buttons, we are pretty sure it was packed full of gadgets. In real life, models of Esprit Turbos were produced between 1976 and 2004 and were lauded for their superb handling. The Esprit could reach 60mph in 8 seconds and hit top speeds of 133mph. A truly beautiful and iconic Bond car.
15. Aston Martin V8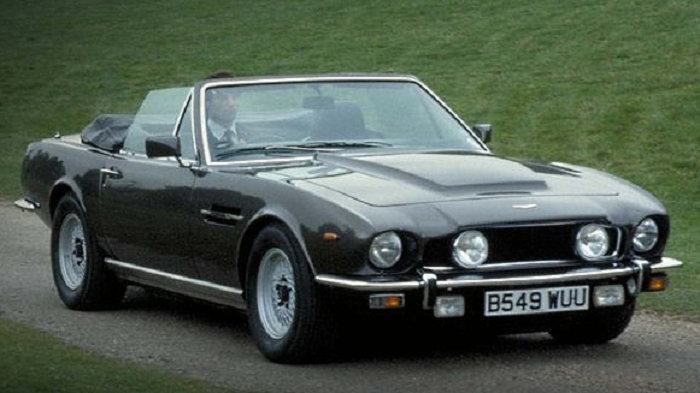 Photo: vignette1
Last but not least is the Aston Martin V8 which appears in The Living Daylights (1987). A beautiful coupe, it was manufactured between 1969 and 1989 and was entirely handmade, requiring around 1200 hours of manpower for completion of each model. The finished articles could go from 0-60mph in 5.2 seconds, reaching top speeds of 168mph. The jet black version that Timothy Dalton's Bond drove was a beautiful example of this stunning car. Being a Bond vehicle, it is of course gadgeted up to the max, with missiles, spiked tires and even built in skis!